Doctors & Staff
Meet the experienced and friendly doctors and staff who make EyeCare Center of Oneida the leading provider of vision care products and services in Oneida.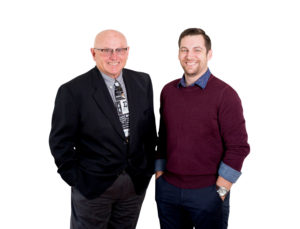 ---
Dr. Ronald H. Poulin
Dr. Ron Poulin is a graduate of Jamesville-DeWitt High School and Syracuse University. He did his post graduate work in Chicago at the Illinois College of Optometry where he recieved his Doctor of Optometry degree, Magna Cum Laude in 1975. On October 1, 1975 he began seeing patients in Camden and soon thereafter he began his practice in Oneida.
Dr. Poulin is a Fellow of the American Academy of Optmetry (FAAO), and a member and former president of the Mohawk Valley Optometric Association and the American Optometric Association.  He has held many positions within these organizations and most recently has been the  Medicare liaison for Upstate New York.  Dr. Poulin also has been a member of the Rotary Club of Oneida and is a Paul Harris Fellow within that organization.
Dr. Poulin is continually learning and searching for new and better ways to improve the practice and has a geniune concern for the needs of his patients.  Dr. Poulin Currently practices in the Camden and Oneida Offices.
---
Dr. Justin A. Smith
The EyeCare Center of Oneida is proud to welcome Dr. Justin Smith to our practice. Dr. Smith was born and raised in Verona New York, where he was a graduate of VVS High School.  He received his bachelors of science degree from SUNY Geneseo  and graduated with honors and biophysics. Dr. Smith then move to Boston, where he completed his doctor of optometry degree at the New England College of Optometry. He completed his clinical externships and primary care and pediatrics. He also completed in ocular disease rotation and Wenzhou, China. Having grown up in the Mohawk Valley,  Dr. Smith is excited to return to the area to give back to the community that helped give him the educational and life experiences essential to be coming the professional that he is today.  Feel free to stop in and meet our newest addition to the team!
---
Cindy
Cindy is a NYS Licensed Optician, and American Board of Opticianry certified who was previously a been a pre-test assistant in the EyeCare Center of Oneida and has been with the office since 2000.  She also assists at the front desk, coordinates the contact lens inventory, and helps in the spectacle lens fabrication and finishing lab. She specializes in making everyone feel comfortable during his or her eye exams, especially our youngest patients.
---
Samantha
Samantha is currently serving as our Front Desk Coordinator.  She is the first person you will speak to when you call or stop in to our Oneida office. Her duties include scheduling appointments, billing insurances, and handling any questions that you may have regarding your visit to our office.
---
Melody
Melody has been in the optical profession for 25 years and and is a NYS Licensed Optician, and American Board of Opticianry certified. With 22 years of dispensing experience Melody's skill, and professionalism ensure that she is able to provide fashionable, comfortable-fitting eye wear for patients.
---

Tasha
Tasha is the newest member of the EyeCare Centers family and she currently works in our  Oneida office.  She performs all of the preliminary test that helps the Doctors obtain an accurate prescription for your eye glasses and or contact lenses. She also performs eye health test such as visual fields and fundus photography that helps ensure the health of every patients eyes.